Ninja Captain Alex is hosting another of his legendary blogfests, this time giving participants the chance to extoll and expound upon the virtues of some of their underrated favorite things. Click the button to get the full list of participants.
I don't watch much television, so I won't be able to cover the fourth section.
Music: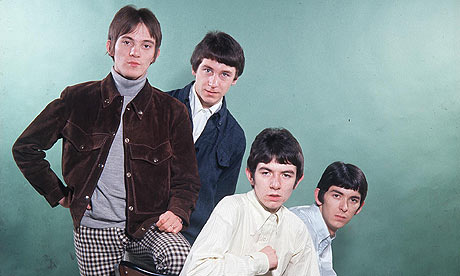 I was turned onto The Small Faces by Senti of my estrogen Who lists back in the early Aughts. (Her real name isn't Senti, but it was the nickname she went by since she was such a sentimentalist for all things Sixties.)  If you only know from U.S. oldies radio (which has become a joke in the last decade), you'd think The Small Faces had a one-hit wonder with the obscenely overplayed "Itchycoo Park." Completely false!
Like The Who, they were from London, and like both The Who and The Hollies, they were always far more popular in their native Britain than across the pond. Unlike The Who and The Hollies, though, they only had two Top 100 singles in the U.S., making them even more of a hidden secret. They were active from 1965-68, and had another album released in 1969. They were singer and guitarist Steve Marriott (who sadly died in a house fire in 1991), bassist Ronnie Lane (who sadly died of MS in 1997), drummer Kenney Jones (who later joined The Who after Moonie passed on), and keyboardist Ian McLagan, who replaced Jimmy Winston in 1966. Ian later married Keith Moon's ex-wife Kim, who sadly passed on in 2006.
They had so many great albums, but I'd recommend their 1968 masterpiece Ogdens' Nut Gone Flake to start out with. Unlike the most overrated album of all time, this is a concept album which actually has an original, consistent concept.
Film:
Instead of going with my usual inclination and recommending a silent film, I'm going to recommend the 1994 Russian film Burnt by the Sun (whose title literally translates as Wearied by the Sun). It's set during one very eventful day in the Summer of 1936, in the thick of the Great Terror. Oleg Menshikov, one of Russia's finest actors, plays Mitya, the former beau of the now-married Marusya Kotova. Marusya's husband, Sergey Petrovich Kotov, is much older than she is, but they seem happy together, and they have a young daughter named Nadya.
Given the historical setting, you kind of know things aren't going to be happy for long, but I won't give away anything other than to say the ending is absolutely chilling. Please avoid the horrific sequel Burnt by the Sun 2, set during WWII. Not only does it have many historical inaccuracies, but there's some serious, serious, serious retconning that completely contradicts everything that happened in the first film, as well as changing young Nadya into a full adult woman.
Literature:
Many people aren't familiar with La Vita Nuova, Dante Alighieri's sweet, very personal, underrated 1295 work. It's a collection of beautiful poetry and autobiographical prose, all about his unrequited love for the beautiful, unattainable Beatrice. Dante walks a very fine line between love and obsession, but he never really crosses that line and behaves inappropriately. He's man enough to step back and not tell Beatrice, a married woman, about his true feelings. (Dante was also married himself, though you'd never know it from any of his writings!)
Beatrice's death devastates him, and he almost stops writing in his grief. Later, a beautiful woman visits and inspires him to start writing again, but Dante quickly feels very ashamed he took another woman as his muse, and vows to only write poetry for Beatrice forevermore. At the end, we see the germ of the idea which eventually became his beautiful masterpiece, The Divine Comedy. He wanted to immortalise Beatrice for all time in the best way he knew how.