Because I mostly enjoyed Betsy and Tacy Go Downtown, the fourth book in this vintage coming-of-age series strongly based on the author's own overly idyllic life, I thought I'd like the high school books even more. After all, as characters gradually get older, their adventures automatically become increasingly more interesting and mature.
Right?
Wrong!
First of all, this barely qualifies as a proper Betsy-Tacy book because Tacy is barely in it. She's relegated to more of a secondary character most of the times she appears, since she's not interested in the shallow, insipid goings-on of "The Crowd" (what a stupid, unoriginal name for a big group of friends). This book would've been so much more compelling if Tacy's lack of interest in boys, social life, and partying had been developed as a foil to Betsy's new obsessions.
There was such poor character development of "The Crowd," I totally forgot Herbert and Larry are brothers until it was pointed out again near the end! All these new friends ran together. While I usually write with large ensemble casts myself, you can't just throw them all at the reader in one fell swoop! You gradually introduce them a few at a time, even if they're all present early on.
Vera Neville's illustrations don't help, since they make everyone look almost identical.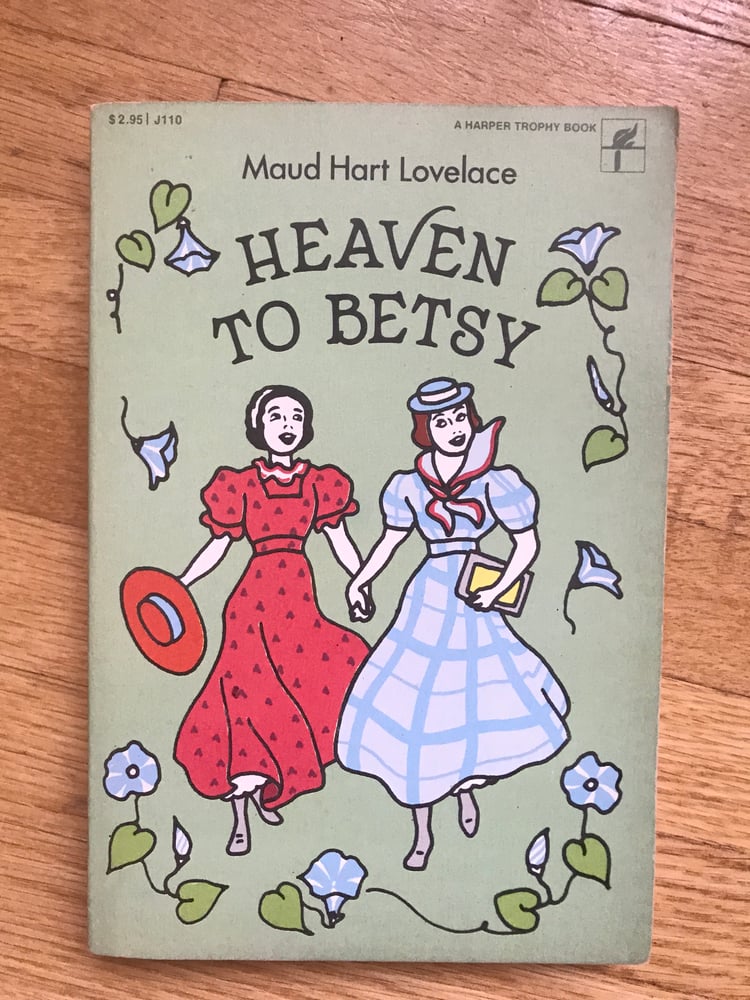 This book feels like a reversion to the earliest books in the series in that it consists of a series of random episodes instead of one cohesive plot or story trajectory. Am I supposed to give a damn about the endless parties, get-togethers, and flirtations of these popular, upper-middle-class ninth graders? Or relate to Betsy for being instantly popular and sought after by multiple boys from Day One of high school?
Betsy is so obsessed with currying favor with "The Crowd," she feels she can never turn down an invitation. At one point, she pretends her mother cautioned her against ice-skating due to cold weather, and when that ruse fails, she fakes a sprained ankle rather than tell her supposed friends she just doesn't like skating.
Despite attending what must be one of the easiest high schools ever, with only FOUR classes (Latin, composition, algebra, and ancient history), Betsy still manages to do poorly in everything but English for much of the year. Her final grades in Latin and algebra are Cs, and she somehow manages to greatly pull up her history grade near the very last minute to finish with a low A.
I was embarrassed for Betsy when she used a nonfiction essay about Puget Sound to write a freaking short story about herself, her friends, and her sister Julia taking a visit there. She read that "essay" before the entire school, and got a huge round of applause! If I were her English teacher, I'd have failed her for not following directions. I remember several assignments I got Cs on or was told to redo because I misunderstood the objective or made my own character up instead of using a real person.
The boys were so freaking entitled and obnoxious, I failed to see why any of the girls liked them so much. E.g., they break into a house during an all-girl Halloween party, steal the ice-cream, and hold it hostage till the girls feel browbeaten into inviting them inside. Later, they force kisses on unsuspecting, non-consenting girls as they walk under a doorway with mistletoe, and even laugh about how Tacy's coming next and will be really mad. It is NEVER okay to kiss someone without consent!
Betsy is nominated as one of the two ninth grade contestants for the annual essay contest, and has six weeks to research this year's topic of the Philippines. But because she just can't turn down a party invitation, she only visits the library a handful of times and predictably comes to the contest poorly-prepared.
There's a subplot about Betsy and her sister Julia wanting to join the Episcopal Church and freaking out about how their Baptist father will react. I wish that storyline had been featured in greater detail, since it's a lot more compelling than Betsy's stupid parties and boy-chasing.
Minor nitpick, but I was pulled out of the story every time the Ouija board's planchette was called a "table." That's never been the word used for that object! (And if you're wondering, scientific studies have shown the Ouija board works by the ideomotor effect, subconsciously moving the planchette to answers you want.)
Bottom line: Betsy is really shallow and boring in this book, and it feels kind of deus ex machina and unrealistic when she finally realises near the end that she shouldn't have abandoned her writing and pretended to be someone she's not for the sake of popularity and male attention.
And enough already with the constant parade of unnecessary adverbs!