As I explained in Part I, which reviewed the first two book in the Betsy-Tacy series, I just amn't as into these books as apparently many other people are. Maybe I'd feel differently had I been introduced to them in grade school instead of as an adult, but then again, several books I adored as a youngster haven't survived an adult rereading.
As someone who grew up poor and working-class and therefore knows real life is rarely like a Norman Rockwell painting or Andy Hardy movie, I also have low tolerance for books, TV shows, and films where everything and everyone are unrealistically idyllic and happy-clappy. No one's life is picture-perfect all the time, with minor bumps in the road quickly smoothed out.
And don't ask me to believe your comfortably bourgeois characters are struggling financially when they can afford a freaking telephone in the 1900s, a live-in "hired girl" to cook and do housework, a house with both a front AND back parlor, and building an additional bedroom onto the house! Not to mention having a dining room instead of eating in the kitchen.
Betsy and her BFFs Tacy and Tib are super-excited about their upcoming tenth birthdays, since they'll have double-digit ages and will be practically grown. Betsy, the last to turn ten, gets a surprise birthday party at night, lasting till 9:00, which confirms her view that ten is such a huge maturity milestone and sophisticated age.
Betsy, Tacy, and Tib (whose name is frustratingly cut out of the title, despite doing everything the other two do) promptly develop their first celebrity crush, on 15-year-old Prince Alfonso of Spain. On his upcoming 16th birthday, he'll be crowned King Alfonso XIII.
Being just ten years old, the girls daydream about marrying him and becoming Queen. They're so obsessed with him, they cut out pictures from the newspaper and pin them to their undershirts. They can think or talk of little else, until they discover he can only marry an equally-ranked princess of the royal blood.
Regardless, they write him a letter proclaiming their love and wishes for marriage. This letter becomes lost during a picnic on top of the hill. Not only that, the picnic basket itself goes missing.
While trying to chase down their lost letter and basket, they find a goat and his human, a girl just their age who lives in Little Syria on the bottom of the hill. (The residents were actually Lebanese, but Lebanon was part of Syria in this era.) The goat carried off their picnic basket, whose contents they gather up.
The girls invite the stranger to their picnic, teach her a few words, and learn her name is Naifi. Being typical kids, they decide to keep their new friend a secret.
That spring, their school holds its annual School Entertainment, full of singing, dancing, playing musical instruments, and reciting. On their way home, they discover a pack of boys bullying Naifi. The increasingly violent fracas only comes to an end when Betsy and Tacy's older sisters come upon the scene.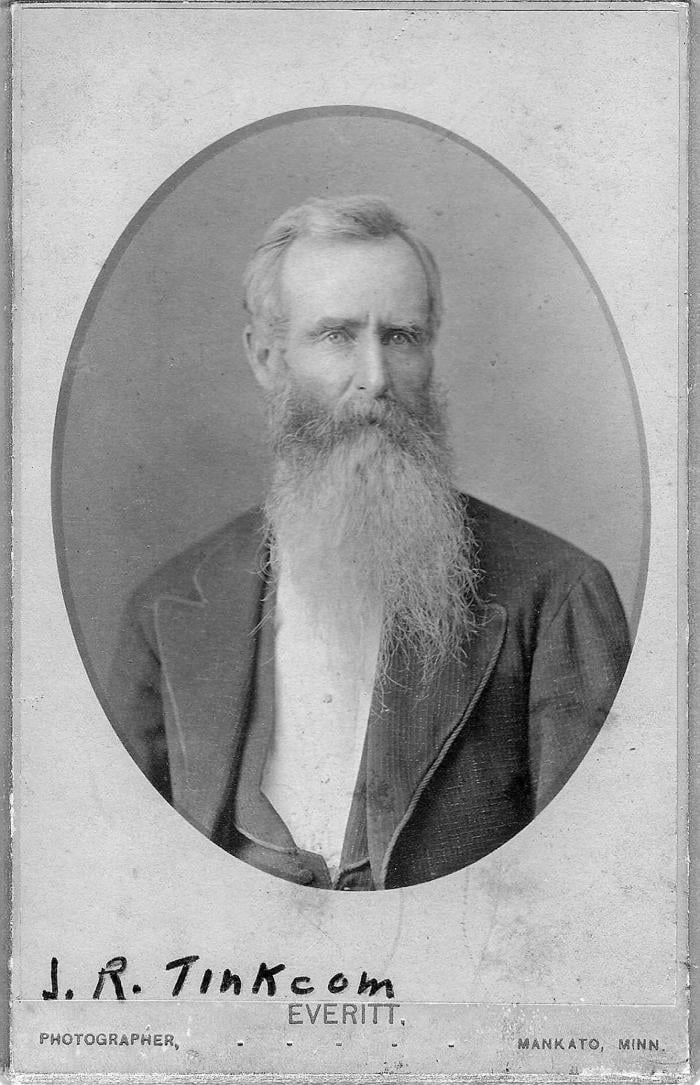 James Tinkcom, developer of the real-life Tinkcomville (Little Syria) in Mankato, Minnesota
It all goes downhill for me in the second half. Betsy, Tacy, and Tib decide to do a June Queen ceremony, and they completely flip out when they learn Betsy's sister Julia and Tacy's sister Katie are making plans for their own Queen of Summer ceremony.
The younger girls are convinced Julia and Katie stole their idea, and make up a babyish song about them being mean copycats. When Julia and Katie say they planned to invite them to be flower girls, the younger girls act like overgrown 3-year-olds having a tantrum. They even physically attack Julia and Katie and destroy the crêpe paper they spent their own money on.
In the middle of this childish temper tantrum, Betsy's dad drives up. Given the era, I'm shocked these girls weren't given a good paddling for their outrageous behavior! They're not even made to pay Julia and Katie back for the ruined crêpe paper. Instead they're all prevailed upon to canvas the neighborhood for votes.
During their quest to get as many votes as possible, Betsy and her friends go to Little Syria and meet Naifi again. And here the plot thickens, leading to an unrealistically, sickeningly syrupy conclusion.