It's quite surprising I don't recall hearing about the Betsy-Tacy series till a few years ago, since I read so many other old books and series when I was in elementary school. For whatever reason, I just never saw or was told about these books until I was well past the age of the intended primary audience.
This 10-book series is strongly based on author Maud Hart Lovelace's own life, so much so it's all but a memoir with different names and a few tweaked details. Apparently it has quite a cult following, with many people effusively crediting it with their decision to become writers, citing it as one of their favorites growing up, and calling the characters friends.
There's even a Betsy-Tacy Society, with regular events like trivia contests, Victorian Christmas parties, concerts, wine-tasting fundraisers, and writing workshops. They also have a gift shop and give tours of the real-life places in Mankato, Minnesota which feature in the series.
But does it hold up for someone only coming it to as an adult, without rose-colored childhood nostalgia?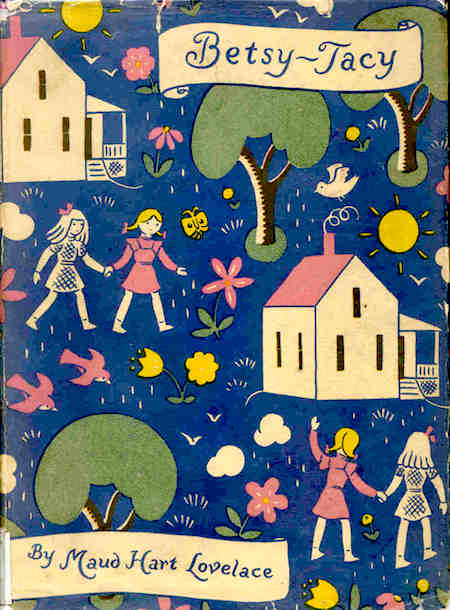 A month before Elizabeth (Betsy) Ray's fifth birthday, a new family moves into the house across the street. Both houses are at the end of Hill Street, which aptly has a big hill behind it. Betsy is very excited to learn the new neighbors have a little girl her age, since none of the other kids on Hill Street fit that description.
The new girl, who's extremely shy, runs away when Betsy tries to meet her on a snowy March day. She shouts out her nickname, Tacy, and for some reason Betsy thinks she's calling out a mocking name. (Even if someone has a very unusual name, why would that be your first thought?!)
Next month is Betsy's fifth birthday party, and Tacy is among the guests. Betsy learns her name is Anna Anastacia, and that Tacy is her nickname. (Mrs. Lovelace found the name Tacy in a Colonial newspaper while researching another book. It was a 16th–18th century Puritan name derived from Latin tace, "be silent." As for Anastacia, that spelling seems really out of place on an Irish–American Catholic girl born in 1892.)
The two become instant BFFs, and they begin having all sorts of old-timey fun and games like playing pretend (though these magical stories are written as though they're actually happening!), eating lunch in a piano box, going up the Hill Street Hill and sitting on a bench, hanging out on the hitching block, buying candy for a penny, starting kindergarten, playing with paper dolls, dyeing Easter eggs, selling colored sand, dressing up like their mothers and going calling as them. At the end of the book, they meet their new BFF Thelma (Tib) Muller.
A couple of problems crop up, but they're all rapidly, smoothly resolved—Tacy running away from school in tears on the first day during recess, Tacy's baby sister Bee dying, Betsy being upset when her parents have a new baby.
And speaking of the lattermost, Betsy's dad was so sure he'd finally get his precious male heir and Junior, he didn't bother thinking of a girl's name! He asks Betsy and her older sister Julia, the day the baby is born, to give her a name!
Other than that, nothing really happens. Everything and everyone are all happy-clappy in this idyllic small town full of comfortably bourgeois people. Betsy and Tacy never quarrel. No neighbors ever confront them about how they're screaming at the top of their lungs in the middle of the street.  Their only consequences for mild misbehavior seem to be mild scoldings and their parents quickly laughing off their antics.
Plus, it's written in that dated, distant, spoilerific God-mode, so I never felt in anyone's head or like there were compelling, emotional stakes.
Sorry not sorry, but I need a real reason to care about characters and storylines beyond them being thinly-fictionalized memoirs of an old-timey childhood. Having grown up poor and working-class, I know real life ain't like a Norman Rockwell painting or Andy Hardy movie for most people, and can't relate to such idyllic tales. My great-grandparents, who were born around the same time, only wished they could've had such happy, innocence-laced childhoods!
Also, even a deliberately episodic, character-based story needs hung on some kind of narrative arc.
The second book is pretty much exactly the same, a bunch of random episodes in an unrealistically idyllic small town, only with a third girl added. And did people in the 1890s really think trouble automatically begins when three girls become BFFs?! Plenty of trios have been friends for decades!
The first chapter pissed me off, when the girls make themselves look like (physically) dirty beggars and pretend to Mrs. Ekstrom at the top of the hill that they're starving. Betsy and Tacy's older sisters come in, and they cowardly flee, whining, "They're eating our cookies!" Mrs.  Ekstrom didn't make those cookies for YOU!
There are more playing pretend episodes written as if these magical things are really happening. The girls also attend a street fair with a flying lady, build a miniature house in Tib's basement, bake a repulsive concoction with literally everything in the pantry and predictably get sick, and start a secret club.
The girls cut their hair after Tacy recovers from diphtheria, with the intent of making memorial jewelry, and their parents completely overreact initially (because God forbid a girl might have SHORT hair!), but quickly laugh it off and even out the rough edges. It reminds me of the chapter in the dreadful Ella of All-of-a-Kind Family where Mama tells Charlotte and Gertie that Papa would've given them the worst beating of their lives if she thought they gave their cousin Ruthie a bad haircut on purpose. WTAF!
The girls decide to hang bags around their necks and fill them with stones every time they're "bad," and soon are delighting in "naughtiness" so they can add more stones on purpose. Their "misbehavior" is truly tame, like putting mud in their pockets, calling their sisters stuck-up, making faces at people, and picking flowers in their own gardens. You rebels, you!
At the end of the book, they meet Tib's beautiful Aunt Dolly from Milwaukee.
Honestly, there's no narrative drive to hook me. These girls' lives are too happy-clappy and picture-perfect, and I don't see them growing and maturing beyond getting a bit older. There are no serious consequences for anything they do wrong, as there are for girls like Anne Shirley, Cady Woodlawn, and Laura Ingalls. Nothing truly bad ever happens to them. They get to do whatever they want without any real pushback.
Slice of life stories still need some dramatic tension and a sense that these episodes are connected in some way. I don't like my books to be as syrupy and annoyingly perfect as Full House in written form.